Thank you to everyone who came out to enjoy the Sundays at Aloft Brunch Mimosa Lounge! After a stormy weekend, the weather was perfect for our special brunch provided by Shantell's Cafe. Her mouthwatering menu favorites were definitely the Shrimp & Grits as well as the Chicken & Waffles. Throughout the day, one phrase was repeated "I love this music!!!". Dj Lemy Currey's contemporary mix of Soulful House, Nu Disco, R&B & Indie pop definitely set the mood.
Beautiful crowd, bottomless mimosas, good food & great music, you couldn't ask for a better way to close out your weekend.
If you missed, this month's event, we'll be back again on June 8th. See you there.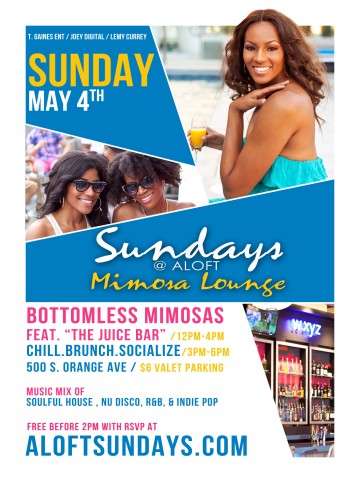 Presented by: T. Gaines Ent, Joey Digital & Lemy Currey
Music: Dj Lemy Currey
Venue: Aloft Hotel
Food: Shantell's Cafe